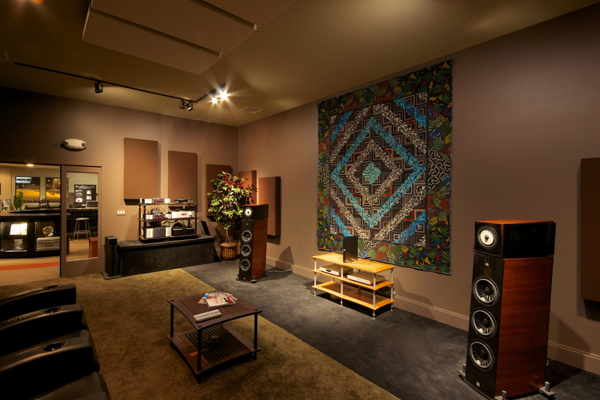 Automation We design completely customized automation systems in consultation with our clients. A basic system is one that would control just lighting, shades & fans via an on-wall keypad and/ or a smartphone app. A full-fledged system would allow control, monitoring & scheduling of lights, shades, fans, climate, speakers, televisions & security. Designing the system takes into account factors such as client preferences, budget, home size & appliances to be controlled. Thanks to continuous technological innovation, we can now help you seamlessly & reliably control everything – from lights, fans, air conditioners& security cameras to speakers, televisions, set-top boxes, Blu-ray players etc.
Audio Video Solutions  Home entertainment in India has come of age. The discerning professionals at Jet homes choose none but the finest and most respected brands from around the world, making it the most preferred one-stop destination for connoisseurs of ultimate home theatre technology and super high-end audio.Add to this, a sight and sound experience that's unlike any other.
Our state-of-the-art brands are technologically generations ahead of the rest. They turn a compact disc into a philharmonic orchestra and transport listeners to a live performance or the big screen experience of a movie. It's nothing short of a revolution the way our audio brands highlight strands of sound you missed before. All this transports the listeners to a mesmerizing world of sight, sound and beyond. Jet homes works closely with world-renowned designers and architects to custom design home theatres to exact specifications in homes, corporate offices or, indeed, in any space. 
HI FI Audio
my whole effort to enter the av bussiness is because i am always passionate about stereo music.20 yrs before there was no home theatre and its stereo music which brought me in.We have an nteresting range in stereo music where one can audition wireless lossless audio with the best of 2 channel system.this stereo music is the core of audio and will always remain unlike multichannel audio which keeps changing due to technology.
Room Acoustics
APART FROM THE REGULAR DESIGN OF THE AV EQUIPMENT, WE ALSO DESIGN THE ROOM INTERIORS AND ACOUSTICS. THERE ARE MANY DESIGNS WHICH WE HAVE DONE COMBINING THE ACCURACY OF AUDIO/VIDEO AND MOST IMPORTANTLY THE AESTHETIC APPEAL OF THE ROOM, WHETHER IT IS IN A DEDICATED HOME THEATRE ROOM OR LIVING ROOM HOME THEATRE . ROOM ACOUSTICS IS VERY IMPORTANT TO GET THE BEST OF THE AUDIO VIDEO SYSTEM.NO MATTER WHAT BEST AND EXPENSIVE SYSTEM ONE HAS, IT WILL SOUND ACCURATE ONLY IF THE ROOM ACOUSTICS ARE DONE IN PROPER MANNER.
Commercial Audio/Video
APART FROM THE RESIDENTIAL REQUIREMENTS WE CATER TO AV REQUIREMENTS IN COMMERCIAL AREAS LIKE PUBS,RESTAURANTS,CLUBS,AUDITORIUM,HEALTH CLUB,ETC.IN THE LATEST DEVELOPMENTS WE HAVE INSTALLED VARIOUS AUDIO SYSTEMS IN MULTIFLOOR BUILDINGS WHERE ONE CAN LISTEN TO DIFFERENT MUSIC IN DIFFERENT AREAS/FLOORS VIA AN APP WITHOUT EVEN GOING NEAR THE CENTRALISED AUDIO SYSTEM.THESE SOLUTIONS ARE GROWING FURTHER AS IT BRINGS A CERTAIN EASE OF OPERATION TO THE CLIENT.
Home Automation
LIGHTING AUTOMATION AND AV AUTOMATION is a mandatory addition which we have made to give a complete in house solution.
WE HAVE AN AFFORDABLE SINGLE ROOM PACKAGE WHICH CAN WIRELESSLY CONTROL YOUR AV,LIGHTING AND AIR CONDITION JUST VIA AN APP. We have trained engineers to handle the turnkey project.